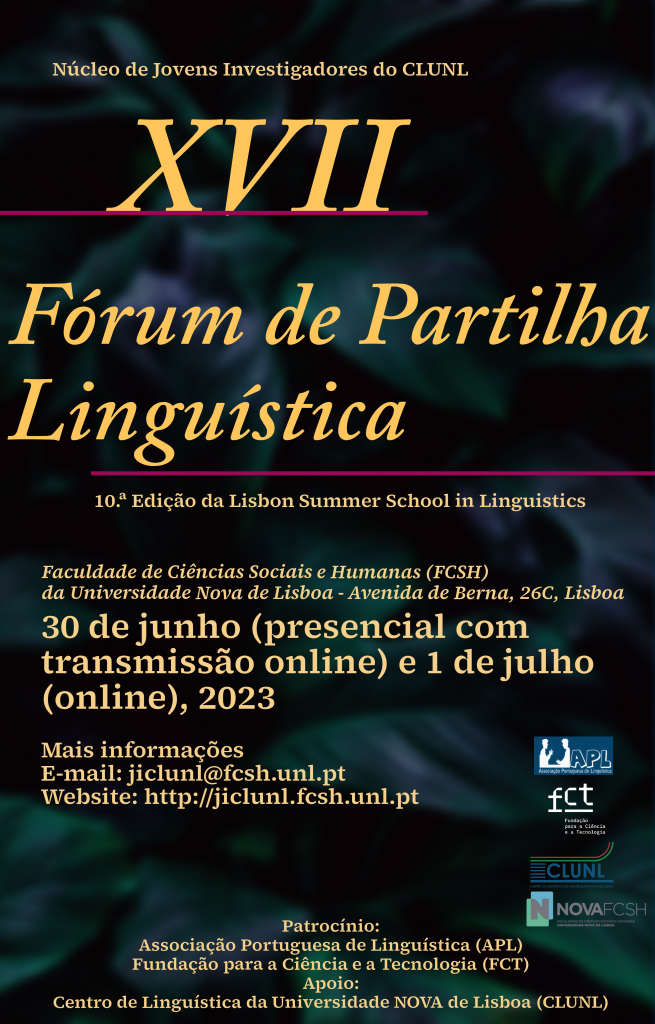 The Young Researchers Group of CLUNL organized, on June 30 and July 1, 2023, the XVII Forum for Linguistic Sharing. This edition had a mixed format: on June 30 – in person (with online broadcasting), and on July 1 – online.

The full Program is available here.
The Book of Abstracts is available here.
Organizing Committee
Ana Afonso
Bruna Bragança
Catarina Rosa
Joana Miguel
João de Matos
João Dinis Fernandes
Mário Gouveia
Ronan Pereira
Scientific Committee
Adelina Castelo, Aida Cardoso, Alexandra Fiéis, Alexandra Guedes Pinto, Alexandrina Martins, Amália Mendes, Ana Castro, Ana Lúcia Santos, Ana Luísa Costa, Ana Madeira, Ana Mineiro, Antónia Coutinho, António Leal, Carina Pinto, Celeste Rodrigues, Célia Regina dos Santos Lopes, Christina Dechamps, Clara Barros, Clara Keating, Clara Nunes Correia, Clara Pinto, Cristina Flores, Cristina Martins, Ernestina Carrilho, Esperança Cardeira, Fernanda Pratas, Helena Topa Valentim, Hugo Cardoso, Isabel Falé, Isabel Roboredo Seara, Isabelle Simões Marques, Joana Batalha, Joana Teixeira, Jorge Baptista, Jorge Pinto, Lili Cavalheiro, Madalena Colaço, Mara Moita, Margarita Correia, Maria Aldina Marques, Maria do Céu Caetano, Maria Lobo, Mário Filipe, Matilde Gonçalves, Mônica Magalhães Cavalcante, Naidea Nunes Nunes, Nélia Alexandre, Paula Luegi, Paulo Osório, Pierre Lejeune, Purificação Silvano, Raquel Amaro, Raquel Silva, Rita Gonçalves, Roxana Ciolăneanu, Rui Marques, Rui Pereira, Sara Mendes, Sónia Valente Rodrigues, Susana Correia, Telmo Móia, Teresa Brocardo, Tjerk Hagemeijer